Achieving Your Dream Smile is Easy at Mills Dental Care
High-Quality Veneers for Stunning Results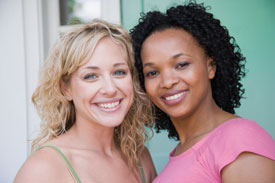 If you're ready for a beautiful smile makeover in as little time as possible, then our popular Emax veneers are for you. Veneers are a very thin tooth-coloured 'shell' which are placed over the front of your teeth to remedy issues such as discoloured, misshaped, chipped, or crooked teeth. They can also cover unsightly gaps, leaving you with a more confident smile that you've always dreamed of.
Why We Use Emax Veneers
Emax veneers differ from regular veneers, as they are made from high quality Lithium Disilicate Glass Ceramic, offering more strength and durability than other types of veneers on the market. Not only are Emax veneers longer-lasting than other varieties (due to their second-to-none bond strength), but their aesthetic qualities are also unrivalled.
Perhaps one of the biggest benefits of Emax veneers, however, is the fact that they are thinner than traditional veneers, resulting in far less tooth enamel having to be removed. This allows the procedure to be less invasive than regular veneers, helping the patient to maintain as much of the tooth's natural structure as possible.
The Veneer Procedure
Getting veneers at Mills Dental Care is a simple three-step process. Our dentists begin by examining your oral health and discussing the procedure with you. You will also choose your desired veneer colour, before your teeth receiving veneers are gently prepared for the procedure. This involves the removal of some tooth enamel, however those with sensitive teeth may be administered with local anaesthetic to ensure they remain as comfortable and as pain-free as possible during this phase.
The second step in the procedure involves creating an impression of your teeth, which is used as a template by our dental lab. Here, your veneers are expertly crafted to ensure exact precision and superior results.
As your permanent veneers will take approximately 2-3 weeks to return from the lab, our dentist will fit you with temporary veneers during this time. This prevents your teeth from potential sensitivity or discomfort. Once your final veneers have been created, we bond them gently and permanently into place, resulting in a new and improved smile you'll love.
Caring for Your Veneers
Although our Emax veneers are highly durable, it is strongly recommended that you brush and floss daily, as well as attend your regular oral hygiene appointments for a check-up and clean.
Are you interested in transforming your smile with our high quality Emax veneers? Schedule a consultation with our team by calling us today!
---
Veneers Port Moresby | Mills Dental Care | 675 3200600