Dental Fillings in Port Moresby
For a Seamless Smile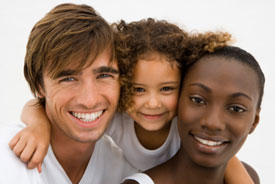 Tooth decay is a common issue for many patients and the best way we can treat this decay is with white dental fillings. Not only do these present a safer, more durable restoration than metal fillings, but they also blend-in seamlessly with the rest of your smile.
Our team of oral health care professionals have been performing dental fillings for many years now and are able to treat patients of all ages with this procedure.
Composite Vs. Metal Fillings
At Mills Dental Care, we pride ourselves on being an Amalgam-free practice. Gone are the days of metal fillings, as developments in dental procedures and materials now see white composite fillings providing outstanding results for patients.
Traditional metal restorations have been known to contain small amounts of mercury, plus their metallic appearance is anything but subtle. Additionally, more of the tooth's natural structure needs to be removed to fit the filling, resulting in a much more complex and invasive procedure. Because the metal can contract and expand in different temperatures, this creates an even weaker tooth structure over time.
Our composite fillings, on the other hand, are 100% mercury-free, plus they can be directly bonded to the tooth, resulting in a less invasive procedure. They're also available in a number of natural shades, allowing us to match the filling to the rest of your smile. No one will even know it's there!
Do You Need a Dental Filling?
As with all health-related issues, it is vital to treat the concern before it develops into a more complex issue. Cavities can cause bacterial infection to spread even further into the tooth's pulp (nerve), as well as to the surrounding teeth.
Warning signs of a cavity include
Dark spots or noticeable holes on teeth
Sensitivity when eating or drinking
Being able to feel a rough spot on the tooth with your tongue
If you're concerned about tooth decay or wish to discuss dental fillings further with our team, please schedule a consultation today! We are also able to replace metal fillings with a safer composite alternative.
---
Dental Fillings Port Moresby | Mills Dental Care | 675 3200600