Orthodontics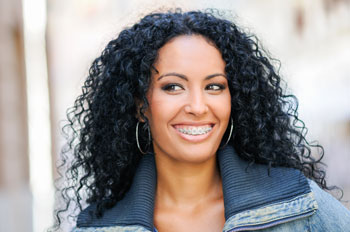 Straight teeth are both attractive and healthy. With a properly aligned smile, you're less likely to have a high risk of tooth decay or gum disease. Aligned teeth perform more efficiently, reducing your chances of irregular wear patterns and even TMJ disorder.
Although not all of us have naturally straight teeth, orthodontic treatment can change that. Our in-house teeth straightening options can directly improve the appearance of
Crooked teeth
Gaps
Overbites and underbites
Tooth misalignment
Crossbites
Your Orthodontic Consultation
If you're considering braces, it's best to schedule an evaluation with our dentist. We'll assess your occlusion (the way your teeth bite together) and take a series of pictures and scans of your teeth. From there we'll be able to provide you with an estimated timeline and treatment plan. You'll know what all of your options are, how long the process will take and any applicable fees involved.
FAQs
There is no age cut-off for orthodontic treatment. Adults who invest in braces tend to find their mouths healthier and better performing than when their teeth were misaligned. Investing in straighter teeth can happen at any age.
How old should my child be to have an orthodontic evaluation?
Orthodontic specialists recommend that children have an evaluation by the age of 7. At this point in your child's development they will have a combination of both primary (baby) and permanent (adult) teeth, making it more efficient to intercept potential issues.
Fixed orthodontic systems utilise a combination of brackets and arch wires to gently push or pull teeth into the desired alignment. Appliances are adjusted at specific points in time to progress the tooth alignment as needed.
How long will I need to wear orthodontic appliances?
Most orthodontic treatments take about 12 months to complete. However, this length varies from person to person. Some individuals may need to wear braces for as long as 18-24 months. To ensure an efficient process, follow your home care instructions as directed.
What types of braces do you offer?
Our office provides traditional orthodontic treatments as well as Clear Aligners (similar to Invisalign® treatment). By offering a variety of braces options, our patients can select the one most appropriate for their lifestyle and goals.
Do I need to see an orthodontist to get braces?
Our comprehensive family dentistry office provides on-site braces for all ages. Save time and enjoy added convenience of working with a dental team you already know and trust.
How should I clean around my braces?
You'll want to invest in an electric toothbrush and water flosser to clean around your braces twice a day. Some people also like to use floss threaders or a proxy-brush to clean under their orthodontic wires and between their teeth. Plan to schedule a dental checkup every six months throughout the duration of your treatment.
Will I need to wear a retainer?
Yes. You'll want to wear a retainer after your orthodontic treatment is completed, to prevent your teeth from relapsing into their previous location. Typically we will fit you with a fixed lower retainer (on the lower front teeth) and have a removable retainer to wear for your upper teeth.
Braces in Port Moresby
Are you considering orthodontic treatment for yourself or a child? Contact us today to reserve a no-fuss consultation.
---
Orthodontics | Port Moresby, Papua New Guinea