Careers at Mills Dental Care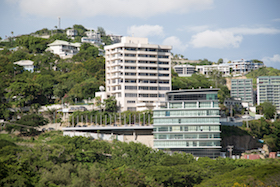 At Mills Dental Care we look for clinical staff based on their ability to go beyond their training and whom genuinely wish to develop long-lasting relationships with patients.
Our philosophy is based upon true preventative dentistry. We educate our patients on the benefits of maintaining oral health care and not just addressing short-term issues.
Our staff are not just employees but members of a health team that support and help each other. If you think this sounds like you, apply here.
Current Positions
Position Advertised: Customer Services and Relationship officer
Established in 1989, Mills Dental Care is one of Papua New Guinea's oldest and most experienced oral health service providers. Serving the oral health care needs of all communities resident in Papua New Guinea we ensure the highest levels of quality and excellence in dental care. Our doctors, auxiliary specialists and staff are highly skilled and always conscious about patient comfort and customer service.
The key responsibilities include but are not limited to:
1. Ensures All Staff:
• Answers telephone in a timely and polite manner, preferably within three rings.
• Routinely demonstrates superior customer service skills.
• Communicates with customers in a courteous, professional, cooperative and mature manner.
• Recognizes and responds appropriately to violent/abusive situations, fire and emergency situations.
• Accurately takes messages and conveys information to recipient.
• Transfers call to physicians and clinical staff when medically indicated.
• Protects patient confidentiality per policies and procedures.
• Observes and practices confidentiality policies and procedures.
• Enters information correctly into Dental 4 Windows patient management system.
• Categorizes, dates and labels loose medical documents.
• Accurately imports financial documents into patient's Electronic Health Record (D4W).
• Demonstrates the ability to collect medical office charges, post charges to patient accounts and accurately manage cash drawer.
• Accurately enters procedures codes with correct diagnosis.
• Compiles and prints daily reports.
• Accurately reconciles charges for the day.
• Accurately prepares daily deposits.
• Correctly prepares daily batch reports/encounters for accounting staff.
• Investigates and accounts for missing encounter forms.
• Comply with workplace policy & procedures as per the Employee Handbook 2019
2. Performs Environmental Care functions.
• Oversees and maintains a safe environment for employees, patients and visitors.
• Assures that all emergency equipment, such as fire extinguishers and emergency lights are properly maintained.
• Ensures work/repair orders are completed in a timely manner.
• Performs quarterly safety/emergency drills.
• Coordinates and prepares office and staff for potential disasters.
3. Management of medical record requests from outside sources and follows company policy and procedures for medical record release of information.
4. Works with Senior Management to develop, implement, and monitor effective programs.
5. Assures staff meet deadlines on projects and tasks assigned.
6. Attends manager meetings.
7. Ensure the effective flow of clients and patients through the practice.
8. Communicate effectively with oral health care providers keeping them updated with their patients
9. Provides superior patient service demonstrating responsiveness and sensitivity to patient needs.
10. Communicate and follow up with clients and patients seeking feedback.
11. Maintaining integrity of practice management systems and ensuring they remain effective and
operational at all times.
12. Develop strategic customer services plans for the support of short-term, medium and long-term
strategies.
13. Analyze business performance/results, providing feedback to Senior Management
To be effective in the role the candidate would require the following qualifications:
• Tertiary education
• Excellent verbal and written communication skills and the ability to make decisions
independently.
• Competitive spirit with a strong desire to succeed, exceeds goals, and maximizes
opportunities.
• Demonstrates the ability to solve common problems and to provide immediate solutions.
• Demonstrates the ability to build relationships, both internally and with patients.
• Knowledge of Microsoft Office business applications and other office related products.
CONFIDENTIALITY: All Practice Members should be aware of the need to preserve strict
confidentiality in dealing with patients and should not disclose information obtained in confidence
except to authorized persons or organization as instructed.
The jobholder will be in possession of personal details of staff and clients and other confidential
information. This must not be discussed or divulged to any unauthorized person. Any such instance
would result in dismissal.
EQUALITY & DIVERSITY: It is the responsibility of all employees to support Mills Dental Care's
vision of promoting a positive approach to diversity and equality of opportunity to eliminate
discrimination and disadvantage in service delivery and employment, and to manage, support or
comply through the implementation of the our Equal Opportunities Policy.
DATA PROTECTION: It is the responsibility of each member of staff to ensure that all data, whether
computerized or manual, is kept secure at all times. This includes data relating to patients and other
members of staff. Data must not be disclosed to any unauthorized person and must be regarded as
strictly confidential at all times. Failure to adhere to this instruction will be regarded as serious
misconduct and could lead to dismissal.
NO SMOKING/ CHEWING OF BETEL NUT: The Practice has a no smoking and Chewing of Betel Nut
policy on the Practice premises and during working hours.
WORK TIMES: Hours of work will be between the hours of 8am – 5pm Monday – Friday. Saturday's
8 am – 1 pm.
Please send your CV and supporting documents and a passport sized photograph to:
naysan@millsdentalcare.com or ssomare@millsdentalcare.com

If you're searching for a wonderful dental employment opportunity in Papua New Guinea, please contact us today!
---
CAREERS – Mills Dental Care