Dental Implants by Dr Naysan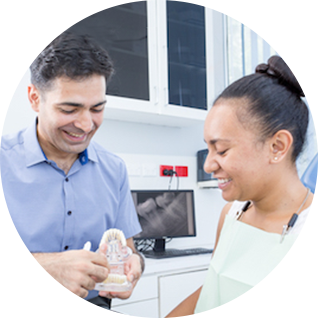 Mills Dental Care has served our community since 1989, making it one of the oldest oral health clinics in all of Papua New Guinea. We've been proud to provide high-quality care for nearly 30 years. Your comfort is always in mind, and we strive to ensure the highest levels of customer service are given.
Love Your Smile Again
Our team can help you love your smile again with dental implants. Dr Naysan Hamadani is registered with the Australian Dental Board and the Medical Board of Papua New Guinea. He is the only trained oral implantologist in the entire country and has earned a Master of Science in Oral Implantology from Goethe University in Frankfurt, Germany. Since 2010, Dr Naysan has treated over 300 patients who wanted to transform their smile with dental implants and has placed over 1000 total implants.
At Mills Dental Care, the needs and comfort of our patients are our top priority. Our in-house Cone Beam CT machine allows us to accurately assess and diagnose our patients' oral health conditions while planning their treatment. Having treated over 300 patients, we have the skill and experience to deal with even the most complex cases.
Implants Benefits
A highly successful fixed replacement option for missing teeth, dental implants have many outstanding benefits.
Are preferable to loose and ill-fitting dentures
Utilise safe, biocompatible materials, which allow them to permanently fuse with the jaw
Are non-invasive to the surrounding teeth
Provide the ability to eat one's favourite foods
Are remarkably durable and can last a lifetime
Allow you to speak with greater confidence
The Skill and Technology You Need
Occasionally, it may be required to augment the bone before an implant can be placed. If you have compromised or low bone volume, Dr Naysan has the skill to complete a bone augmentation procedure so that you can still receive the implants and achieve the look you want, boosting your self-esteem.
Mills Dental Care is the only dental practice in Papua New Guinea that has an in-house cone beam CT machine. With this technology, Dr Naysan diagnoses and plans implant surgeries by taking 3D images of your entire mouth, allowing for a remarkable degree of accuracy.
Contact us today to discuss whether dental implants would work for you or to book your time with our gentle, experienced dentists!