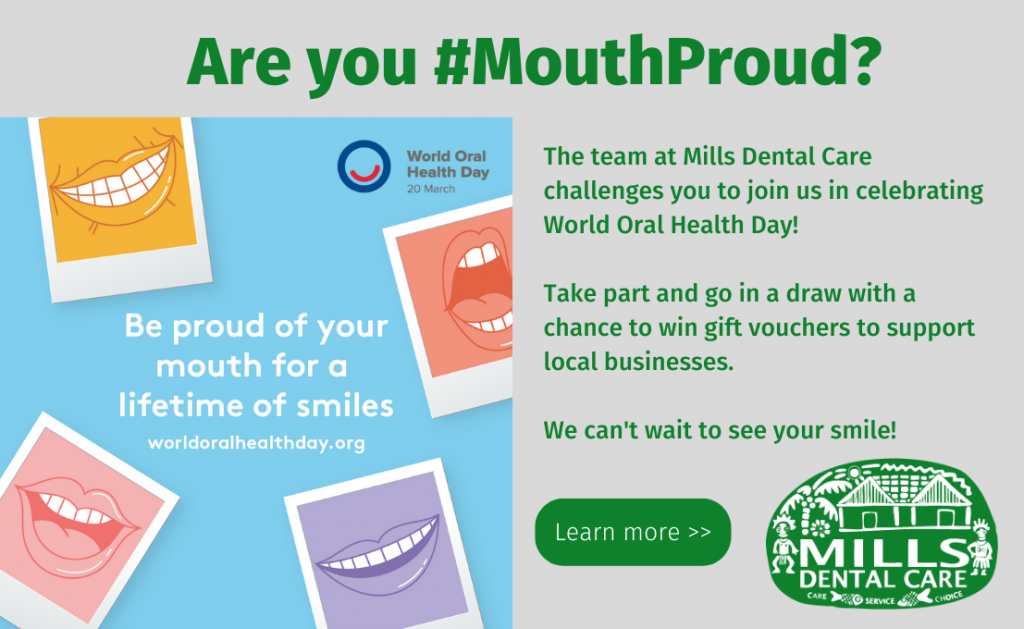 Celebrate World Oral Health Day!
On 20 March, it's World Oral Health Day and the campaign over the last 3 years sends out a really powerful message – Be Proud of Your Mouth.
Be In With A Chance To Win!*
That's right, everyone who takes part and joins in with the fun today will go into a draw for a chance to win some amazing gift vouchers to support local businesses.
How To Enter
World Oral Health Day includes a #MouthProud challenge where you get to take a smiling selfie and upload it to their website where there is a fun Polaroid tool and an Instagram filter.
1. Take a smiling selfie using your mobile phone.
If you want to enter on Facebook, you can use the custom Polaroid tool which will allow you to upload your selfie, pick a message that resonates with you most and then download your custom Polaroid. Click here for the Polaroid Tool.
If you want to enter on Instagram, you can either use the Polaroid tool or you can take advantage of the custom Instagram filter. Click here for the Instagram filter (it will only work if you're using your mobile phone and have the Instagram app installed).
2. Post your custom Polaroid image on Facebook, or post on Instagram using the custom filter.
3. Make sure you tag @millsdentalcare on Facebook or @mills_dental_care on Instagram depending which platform you choose to use, plus 3 friends or family members that you feel inspired by.
4. Remember to include the following hashtags in your post: #mouthproud #WOHD2023 #buildingbeautifulsmiles
5. You can leave a comment too if you like!
Thank You and Good Luck
We can't wait to see your beautiful smiles. Good luck and enjoy taking part in the fun, whilst also contributing to a really important message spreading the word about oral health and preserving a lifetime of smiles.
Dr Naysan and the Mills Dental Care Team
*T&C's apply:
One entry into the draw per person.
Gift vouchers cannot be redeemed for cash.
Winners will be announced via social media on Friday 24 March 2023.